org.dronus.gl.GLFont Class Reference
Collaboration diagram for org.dronus.gl.GLFont: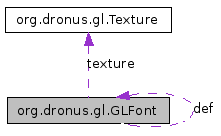 [legend]
List of all members.
---
Detailed Description
allows for GL text rendering. raterizes a system font to obtain a character texture.

can build GL display lists from Strings for fast text rendering.

contains functions for an convenient 2d fullscreen overlay.
Author:

paul
Definition at line 24 of file GLFont.java.
---
Constructor & Destructor Documentation
---
Member Function Documentation
---
Member Data Documentation
---
The documentation for this class was generated from the following file:
---
Generated on Tue Apr 7 17:57:33 2009 for visclient by

1.5.1