org.dronus.gl.Texture Class Reference
Inheritance diagram for org.dronus.gl.Texture: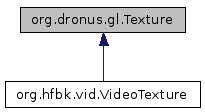 [legend]
List of all members.
---
Detailed Description
encapsulates an OpenGL 2d texture map quite restricted.

the texture need to be created, sized, filled, updated and then used. this all is done by one convenient constructor

the pixel buffer is of mutable size, allowing of different level of details loaded at need.

the opengl specs are currently:

internalformat= GL_RGBA, format= GL_RGBA, type= GL_UNSIGNED_BYTE, filtering trilinear, automatic mipmapping.
Author:

Paul
Definition at line 37 of file Texture.java.
---
Constructor & Destructor Documentation
---
Member Function Documentation
---
Member Data Documentation
---
The documentation for this class was generated from the following file:
---
Generated on Tue Apr 7 17:57:37 2009 for visclient by

1.5.1